These beautiful glasses are our absolute favourite coupes ever. Made of the clearest, high quality, certified Bohemia Crystal, these are a generous size classic champagne coupe, each one hand engraved with a traditional pattern which is centuries old. We love to use them when serving our favourite bubbles, but also love to use when dining - whether it be a tiger prawn cocktail or a creamy Eton Mess.
All items: £3.95
Orders are shipped Monday-Friday, excluding Bank Holidays.
The Finer Details
Certified Bohemia Crystal made in the Czech Republic, they have an impeccable shine and brilliance. The simple flick of a nail to the side will make the most amazing sound. Dishwasher safe.

210ml


A Little More
Don't just keep your glassware for best, use it to bring a little spark of joy to the every day.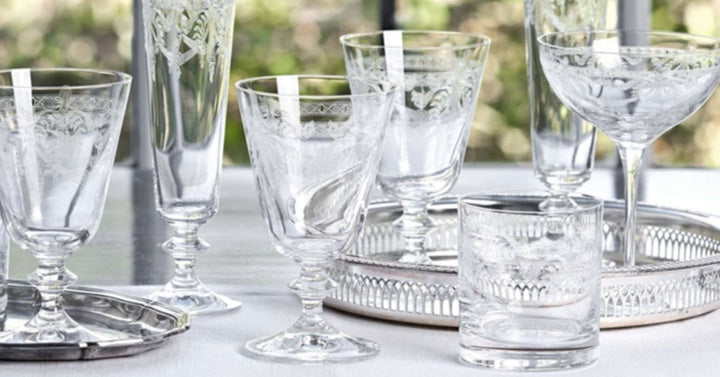 Delivery
All items: £3.95
Orders are shipped Monday-Friday, excluding Bank Holidays.

Beautiful glasses
Had been looking for these since buying some in a shop in Bath and couldn't find them until I did an image search
Amazing quality
These are such beautiful crystal champagne coupes.
We get so many compliments every time we entertain, we just bought another set in readiness for Christmas!
Thank you Brissi
Crystal coupe glasses
Beautiful glasses - just what I wanted.
Loved by all!
Whenever I serve champagne in these glasses friends just love them.. so I also buy them as presents!
Gorgeous coupes that sparkle as the light hits them, they feel very tactile in your hand and give out a very pleasant chink too!! Really beautiful quality glassware and although my overall delivery had issues with breakages, they were very quickly rectified with due care and attention. These coupes along with the rest of the Victoria glassware are marking our silver anniversary and will become a very special heirloom to our children too