These elegant, traditional glasses are made for a sparkling table setting. Made from high quality and certified Bohemia Crystal, they are each hand engraved with a centuries old traditional pattern. Part of our Victoria range, they match perfectly with the tall champagne flutes for a formal setting. 
Small items: £3.95
Large items: £7.50
Extra-large items: £35
Orders are shipped Monday-Friday, excluding Bank Holidays.
The Finer Details
Certified Bohemia Crystal made in the Czech Republic, they have an impeccable shine and brilliance. The simple flick of a nail to the side will make the most amazing sound. Dishwasher safe.

260ml


A Little More
Don't just keep your glassware for best, use it to bring a little spark of joy to the every day.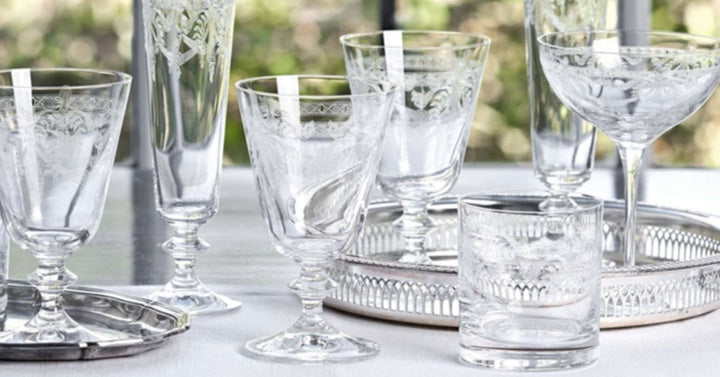 Delivery
Small items: £3.95
Large items: £7.50
Extra-large items: £35
Orders are shipped Monday-Friday, excluding Bank Holidays.

Wonderful glasses, so pretty
We get so many compliments about our glasses in this range. We love them and have the wine, champagne flute and bowl glasses so quite a collection! I would really recommend them. They always arrive safely as they package them beautifully.
Beautiful glasses great service
Bought these to replace breakages for our most used glasses. Delicate design great for any table setting, every day or guests. Look good, feel good in the hand and to drink from. Very pleased with the glasses and hope they continue to be stocked. Arianna was really helpful, especially when the courier needed a bit of sorting out which she managed very well.
Could not be happier
I found my original Brissi glasses in a pop up shop in Bath. I have reordered on line.
Beautifully quick, there was a miss hap with different shaped champagne flutes that was recified within a week at no cost and the picked up and re delivered form my door. Easy peasy.
Beautiful delicate wine glasses
So pretty, very stable and a sensible size; suitable for either white or red wine. We liked the first set so much we bought 4 more!